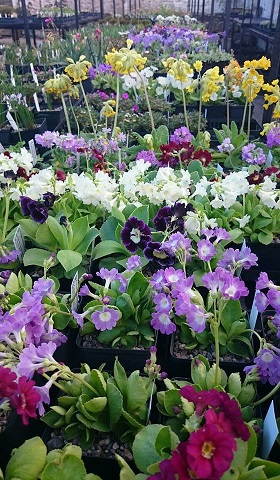 About Ardfearn
Ardfearn Nursery was established in 1987 by Jim Sutherland and his son Alasdair. With a life-long interest in plants, Jim has travelled the world collecting seeds - we still grow many of the plants he has collected from his travels to China, Nepal, Chile, Siberia, Europe...

A world of plants can indeed be found at Ardfearn!

Situated on the southern shore of the Beauly Firth, the nursery is 3 miles from Inverness. Although we are famous for our alpines, we also grow a large number of plants and trees that are specifically grown for either their outstanding or unusual features, and their suitablity for our Highland conditions, and are particularly useful in many gardens.

We try to keep our sales benches loaded with our huge range of alpines - along with our display borders, there is always something of interest!

The nursery is open Monday to Friday, 9am-5pm.
Please note: although we are officially closed at weekends, we are more than happy to open by appointment if you unable to visit during the week. Please call us on 01463 243250 or email ardfearn@gmail.com to arrange this.

We attend Scottish Rock Garden Club shows throughout Scotland during the spring months. Details of SRGC shows may be found under the link "Shows". 2013 saw the start of Alasdair and partner Sarah travelling to the shows - Jim and his wife, Agnes, have been very familar faces at the shows for many years, and it certainly took some time to persuade them to hand over the reins!