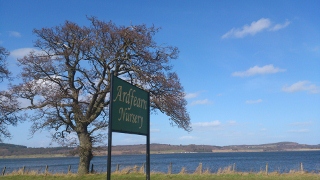 Welcome to Ardfearn Nursery

We have been growing outstanding plants at Ardfearn for more than 25 years. Although our alpines have a strong reputation (which crosses continents!), we grow so much more than alpines! We are sure that our extensive range of quality, rare and unusual plants will provide much interest for the beginner and expert alike.

Ardfearn Nursery is normally open Monday to Friday, 9am-5pm, but for the duration of our Autumn Sale (see below), we will be open seven days a week, including weekends.

Please note: although we are officially closed at weekends, we are more than happy to open by appointment if you unable to visit during the week. Please call us on 01463 243250 or email ardfearn@gmail.com to arrange this.

********AUTUMN SALE NOW ON!********
Many shrubs, trees, climbers, hedging, etc, half-price

****20% off ALL NON-SALE STOCK****

Our sales area is full to bursting with bargains! From evergreen shrubs for winter interest, to practical shelter belts, our huge range of hardy plants will provide much inspiration...

Friendly, expert advice - we grow our plants, so we know our plants!

WE WILL BE OPEN 7 DAYS A WEEK, 9AM - 5PM, FOR DURATION OF SALE

(n.b: 20% reduction available for onsite nursery sales only, online catalogue not included)

Online Alpine Catalogue
To view our online alpine catalogue, please click on one of the links on the left of this page. Choosing the A-Z will let you browse through our large, ever-changing alpine list, or you can use a Search option for specific plants.

Orders placed online will recieve a confirmation email, and we will contact you by phone for payment when your order is ready for dispatch.

Availability changes throughout the year - we welcome any inquiry regarding plants that are not currently listed as being available..


Our new online catalogue will constantly be updated as the availability of plants change - we are also working hard to add lots more photos and descriptions!
Ardfearn's assurance of quality
As plantsmen, we take great pride in our plants at Ardfearn. We only sell healthy, established, strong plants of a good size, and are keen to offer any advice if required. While our existing customers will know this, we would like to assure our new online visitors that the quality and range of our plants are of extremely high standards.
Our view on a summer evening, after a hard day's work on the nursery...